Feeding your newborn or infant formula? No problem! While it may seem a bit more complicated than breastfeeding, there is nothing to worry about and we have got you covered. From amazing nutrition to variety, there are plenty of advantages that come with formula feeding your newborn.
First, let's talk about quantity and frequency!
The amount of formula and how often feedings are is an important note for parents. In the first week of birth, the baby should be eating no more than 30 to 60 ml or 1 to 2 oz per feed. During the first month, babies can gradually increase their feeds to 3 or 4 oz (9-120 ml) with your pediatrician's approval.
It is important to note that formula-fed babies are typically on a much more consistent schedule than those that are breastfed due to caloric density.
By 6 months old, your baby will consume anywhere from 6-8 ounces (180-240ml) at each of the 4 or 5 feedings within 24 hours.
Which formula is right for you?
Choosing a baby formula can be an overwhelming process for most parents. With so many different types, ingredients, labels, and costs to choose from, parents, give yourself a break and know that not each child is different.
Let's bring you up to speed on lingo, contents, and things to keep an eye on.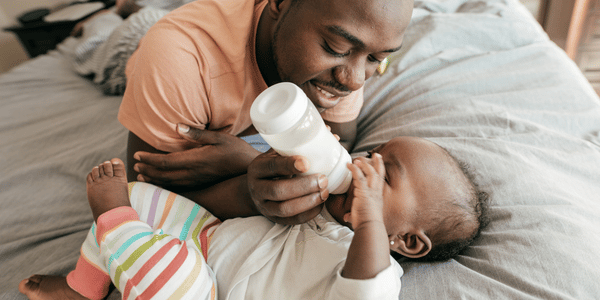 Cow's milk-based formulas – Cow's milk-based formulas populate over 80% of the shelf space. While cow's milk may be the base of the formula's recipes, the overall milk has been dramatically modified (changed) to make it safe for consumption. The process of heating and other unique methods make the proteins easier to digest for newborns and young children. Increased amounts of milk sugar or lactose are added to increase the similarity between the formula and breastmilk, while the butterfat is removed and replaced with vegetable oils and other fats.
Iron-fortified baby formulas have additional iron added. These unique recipes can dramatically reduce the rate of iron deficiency anemia in children. Some infants are not born with or have not developed enough natural iron reserves which are necessary for normal development. The American Academy of Pediatrics recommends that iron-fortified formulas be used for all infants who are not fully breastfeeding.
Probiotics – There is an additional category of formulas that have been carefully crafted to provide healthy bacteria. The pre and probiotic – fortified formulas are designed to mimic natural human milk and promote a healthy intestinal tract.
Other types of formulas include (but are not limited to) extensively hydrolyzed, soy-based, lactose-free, and other specialized recipes.
Which type do I buy?
Formulas come in all shapes and sizes. From powder to concentrate and ready-to-feed products available, the choice is yours.
The main considerations when choosing the type of formula to buy are quantity (how much will your baby need), preparation time and limitations (will you have time and space to safely prepare your formula), cost, and availability. There is no wrong answer and a lot to consider when making this choice.
Tips and tricks for buying formulas.
When it comes to buying formulas, there are a few things every parent should consider. First and foremost, availability! Since the COVID-19 pandemic, there have been increased reports (including governmental recognition) of formula production shortages and recalls. From disruptions in supply chains to increased birth rates, it is important to stock up! Do not fret about not being able to find the formula your friend told you to buy. It is most important that your child safely receives adequate nutrition to support their development. When you find one that works, buy a few extra bottles and put them away!
Another major thing to consider is cost! This stuff adds up quickly. For most families, budget is top of mind when making decisions for their children. It may help to calculate the cost per ounce. While ready-made formulas can be a bit more expensive, even the shapes of powder bottles and containers can change the content size and alter price. Do not make the mistake of thinking the more expensive formula means a healthier child.
Can I save money and make my own formula at home?
While it may seem tempting to cut costs and corners by making your own formula at home, there are a lot of risks associated with homemade formula. Infants need an extremely carefully calculated balance of specific nutrients and calories. Too much or too little can put your child in harm's way.
From production sterility to overall storage and consumption, it is important to recognize the true downstream consequences of error. While online recipes may seem healthy to the eye, consider that the infant's digestive tract is not nearly as mature as a fully-grown adult's.
Why can't I just give my child cow's milk?
Short and sweet, there are two main reasons that you cannot supplement your child's breast milk or formula with off-the-shelf cow's milk. First, infants cannot properly digest cow's milk as completely or easily as breastmilk or formula. The next and arguably most important reason is that there are not enough nutrients needed for proper development in babies under a year old.
Cow's milk contains a high concentration of proteins and minerals which can cause unnatural and unhealthy stress on a newborn's kidneys and cause severe illness. Cow's milk also contains a lack of crucial Iron, Vitamin C, and other nutrients. It is for this reason that babies under 12 months of age should not receive any non-human supplements beyond formula.
After your child turns one year old (and with your pediatrician's approval) you may give them pasteurized whole cow's milk or reduced fat (2%) milk to supplement a healthy and balanced diet of solid foods. Although permitted, their intake should be limited to 2 cups per day or less.
If you're still curious about formula feeding and everything you need to know, read more about it here.