Planning fun, interesting fall activities is a great way to encourage family bonding. As the cozy season approaches, pumpkins are decorating porches as always and flavoring the innovative fare offered by restaurants and coffee shops. Whether your preference is for sharing traditional fall family activities or reinventing family fun in new, creative ways, good parenting means setting aside quality time throughout the year to enjoy the special features of each season together.
Fall is a great time to make special memories. Maybe your children would enjoy some of the fall pastimes you recall from childhood. Or, perhaps you're wondering what you can do with your kids that's different this autumn. Sharing activities with your children isn't just fun. It supports mental health and development.
Too busy to come up with unique ideas for things you can do together as a family?
Here's a List of 14 Fun Fall Family Activities
Here are 7 traditional and 7 less conventional ideas to help you enjoy the special season of autumn. Thus, creating a bond with your children that lasts forever.
7 Popular and Fun Activities to Do This Fall
1. Go on a nature walk
Don't pass up the perfect, crisp fall days with beautiful blue skies and rainbow-colored leaves. Marvel at the wonder of nature or play a game as I Spy along the way for fall family activities.
2. Rake leaves
Make it fun, not a chore. For kids, it's always that way. Create a bit of joy before you bag them up. Jump in the piles. Hold a contest to find the prettiest ones.
3. Visit a local farm
Chances are there's one in the area where you can pick out pumpkins and find your way through a corn maze.
4. Go apple picking
You pick farms and let your kids see how things grow. When you get home, bake pies, and cakes, and make applesauce from scratch – or just munch on crispy flavorful fresh apples as you spend the evening together.
5. Go for a drive to see the leaves
Head out of town to a hilly area if you live near one. Road trips have always been a great way for a family to share adventures.
6. Make turkey handprints
It's one of the easiest crafts to complete. You probably did it in first grade. Maybe you hung them in the school window. But doing it as a family is fun also. Just trace the outline of your hand. Fill in the facial details. Color the body and feathers. Voila! You have a flock of turkeys.
7. Attend a high school football game
Even if your children are in grade school, it's never too young to build team spirit, have fun as a family, and connect with others in the community. Enjoy starry autumn night skies. Even if it's cold and cloudy, you can cuddle beneath soft, cozy stadium blankets.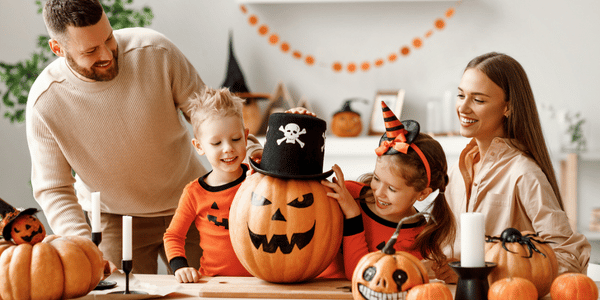 7 Unique/Out-of-the-Box Fall Activities to Try This Autumn
1. Hold an outdoor family photo shoot
Take photos on the lawn or a decorated porch for fall family activities. Do formal poses or candid shots, rake leaves, or walk in nature. Use the shots to create personalized holiday cards.
2. Create a fall wreath together
Have everyone wrap or glue autumn-themed items or craft store decor you've assembled onto a round frame. Proudly hang the wreath on your door.
3. Have a family pumpkin paint
It's safer than carving Jack O'Lanterns with sharp instruments. Not to mention prettier, if you have artistic tendencies. If not, use a template, or create random patterns, tye dye, or polka dot.
4. Learn how leaves make fuel for trees
Take leaf rubbings and use the activity as a science lesson. Identify the parts of the leaves. Refer to a science book to learn about the anatomy of trees.
5. Start an "I'm thankful for…" jar
Encourage every member of your family to write what they're thankful for on a regular basis throughout the fall season. Read them on Thanksgiving Day.
6. Go on a trail treasure hunt
Who says you can only do it on Easter? Hide treats for your kids to find or take a walk in a park and ask kids to collect things from a list you create, like stones or leaves in certain shapes. Award prizes or just enjoy the experience.
7. Visit a zoo and watch animal antics
You may have visited in summer but you'll likely see something new and entertaining. The cooler temps will make walking more pleasant and the animals will be more active.
Conclusion
Good parenting means becoming a mentor, teacher, and activities director. Be creative when it comes to planning fall family activities. Don't just follow the crowd. Set a trend. Invent your own new favorite fun family activities.
New shared experiences can become treasured traditions, not only for the holidays but for each of the year's seasons. We hope we've planted a few seeds to help you and your family have fun and establish a strong bond this autumn.