Summer in Buffalo, NY, is a season that dances with potential. As our city defrosts from winter's embrace, nature awakens in an outburst of color, texture, and warmth. It's during this time that childhood memories are delicately crafted, like sandcastles kissed by the sun and laughter carried by the wind. At our pediatric practice, we value these moments and strive to ensure they're experienced with joy, laughter, and above all, safety.
A Shield Against the Sun: Unveiling Sun Safety
The Gentle Warrior: SPF Sunscreen
Imagine each day of summer as a brilliant tapestry, painted with strokes of golden sunlight. While these warm rays make our world glow, they can also be a foe to our children's sensitive skin. Unprotected exposure can lead to sunburn and long-term damage. That's where sunscreen, our gentle warrior, comes into play. Choose a broad-spectrum, water-resistant sunscreen with an SPF of 30 or above. Consider it your child's armor, defending their delicate skin while allowing them to partake in summer's grand adventure.
The Summer Ensemble: Outfits for Sun Protection
When dressing your child for summer, think of their outfit as a suit of armor against the sun's rays. Lightweight, light-colored clothing is perfect for reflecting sunlight and keeping your little ones cool. Add a wide-brimmed hat and UV-protective sunglasses, and your child becomes a well-dressed knight, ready to conquer summer's challenges while staying protected.
The Liquid Lifeline: Promoting Hydration
The Water Ritual: Regular Hydration Breaks
Summer, with its heat and bustling activities, can be likened to a desert. Just as a cactus needs water to survive the arid conditions, so do our children require hydration amidst summer play. Prompt your children to drink at least a cup of water every 20-30 minutes of active play. Turn this into a fun ritual, a magical potion, granting them energy to continue their adventures.
Shielding from the Summer Serpent: Heatstroke Prevention
Interpreting the Signs: Recognizing Heatstroke
The summer serpent, heatstroke, can strike swiftly and without warning. It's crucial to understand its signs—high body temperature, hot, dry skin, rapid pulse, headache, dizziness, nausea, confusion, and loss of consciousness.
The Shade Sanctuary: Keeping Cool
Defeat the summer serpent by seeking refuge in the shade during peak hours (11 AM – 3 PM), and maintaining an oasis of cool drinks and restful pauses during play. This sanctuary can protect your children, allowing them to bask in summer's splendor while staying safe.
Navigating the Aquatic Arena: Pool/Water Safety
Guardians of the Water: Ensuring Water Safety
Summer's aquatic arena—whether a glistening lake or a backyard pool—beckons children with its promise of refreshing fun. However, each water adventure requires vigilant supervision. Teach your children water wisdom: never swim alone, understand the water's depth, and always respect the water's power.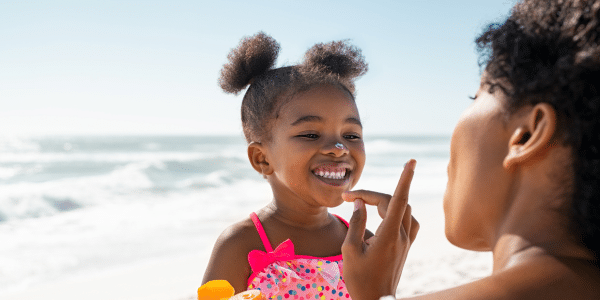 The Life Jacket: Your Child's Water Ally
Equip your child with a well-fitted life jacket or floaties, particularly if they are less confident swimmers. These allies lend buoyancy and confidence, but they are not a substitute for your watchful eye.
Conclusion
Each summer in Buffalo, NY is a unique canvas, ready for your child's playful brushstrokes. With careful sun protection, diligent hydration, heatstroke awareness, and keen water safety, you can ensure their masterpiece is both safe and joyous.
Our pediatric practice is here to support you, providing quality care and guidance for your child's health throughout summer and every season. New parents are warmly welcomed into our community, where we embrace each child's well-being as our paramount mission. For more personalized advice or to schedule your child's next appointment, feel free to contact us. Let's build this colorful summer narrative together, ensuring it's not only fun-filled but also safe for our little ones.