With winter on the way, it might get a little bit harder to get the kids outside often. We recognize that parenting's not usually a cakewalk and winter can make it that much harder to keep them busy all day. So, we've put together a list of indoor winter activities for parents to keep kids occupied in other fun ways!
Benefits of Exercise for Your Kids
Sure, exercise is necessary to promote good cardiovascular health, decrease the risk of diseases like diabetes and obesity, and get them plenty worn out for nap time, but there are other benefits for your toddler when they're able to stay active! Some of these benefits include:
Better brain health
Increased bone strength
Building confidence
Managing strong emotions
Boosting their self-esteem
And more! While getting your kids outside has its own benefits, it can be harder to do in the winter. It might be too cold for your smaller children, you may not have access to areas that they can safely play in, and they might not be interested in staying outside as long. So, keep reading for fun indoor activities that will keep your kids entertained, engaged, and moving this winter!
10 Indoor Winter Activities to Keep Your Kids Busy
Good Housekeeping put together a list of 22 indoor winter activities to do with kids, and we picked out some of our favorites:
1. Yoga for Kids
If no one's interested in bundling up and heading outdoors to play in the snow, then some yoga is a great option for a little indoor exercise! Yoga is not only a great option for some physical activity but it's also perfect for stress relief and centering focus when things start to get out of control. All you'll need is YouTube to try out some of these yoga video favorites that are perfect for kids!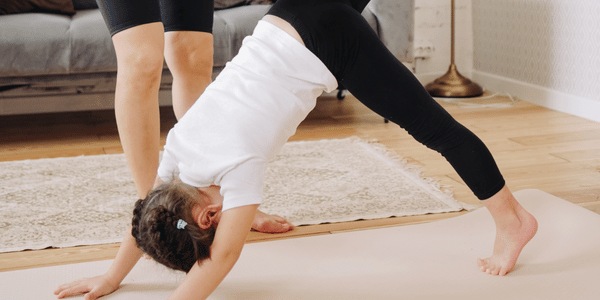 2. Put Together an Obstacle Course
The great thing about small children is that many things are obstacles for them! While focusing on safety, lay out pillows for them to climb over, couch cushions for them to crawl under, cups for them to hop over, and ropes to create paths for them to follow. You can also find obstacle course blocks on amazon if you want to make it a regular activity!
3. Build a Fort
Forts are magical places for kids to create, imagine, and enjoy! Whether you set the fort up for them or help them put together a more elaborate masterpiece, this can be a great way for your kids to stay moving and busy on a cold winter day!
4. Create a Scavenger Hunt as One of the Indoor Winter Activities
You don't need to put together an elaborate scavenger hunt full of riddles and tricky questions to keep your children entertained. Simply giving them a list of pictures full of things to find is an easy way for them to have fun and get some physical activity in!
For some inspiration, find scavenger hunt ideas here!
5. Have a Dance Party
Putting on your kid's favorite songs and encouraging them to dance will help them burn off some of their extra energy, bond with you, and invoke their natural silliness! You can also play freeze dance, dance like crazy animals, or turn on a dance-along video they'll enjoy, too!
6. Play "Mommy/Daddy Says"
Just like "Simon Says", you can test your kids' listening and agility by playing "Mommy/Daddy says". While the smaller kids will probably just do whatever you tell them to do regardless of whether you said "Mommy/Daddy says," it will still get them moving and engaged!
7. Balloon Volleyball
This indoor winter activity is great for getting some fun and creative exercise in while still being mindful of your furniture and other keepsakes your may have around your home! Even if you just end up trying to keep the balloon off the floor, your kids are still going to love this activity (and it'll wear them out for naptime, too).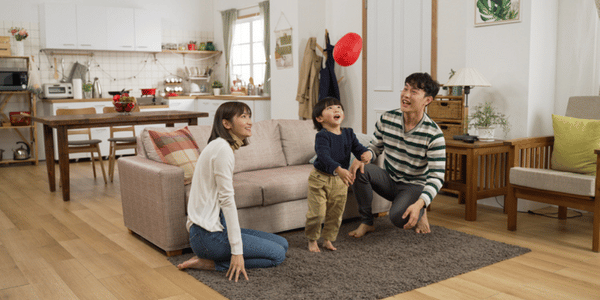 8. Put Together a Sensory Bin
Sensory bins are a great tool for smaller children to use their senses in a creative and new way, and there are so many different ways that you can put one together! Some include shaving cream, Orbeez, or rice. Check out this site for more ideas!
9. Have Some Craft Time for Indoor Winter Activities
I think a lot of "Pinterest moms" have made us think that kids need crazy, elaborately done-up crafts to be worthy of their (and our) time. However, the great thing about kids is all you have to do is give them the supplies, and they're off. Three scraps of paper and some glue and they've officially made themselves an alien that they're super proud of!
Keep craft supplies like googly eyes, pipe cleaners, glue (liquid and stick), construction paper, safety scissors, markers, and crayons on hand to keep them busy for hours!
10. Decorate Cookies
Depending on the age group and how ambitious you're feeling, you can bake cookies, cupcakes, or cakes with your kids. However, sometimes decorating is easier for you and more fun for them! Depending on the time of year, skip baking cookies and get a kit at your local grocery store. If you're interested in baking cookies at home, here are some fun and easy recipes to try out!
Don't forget the sprinkles!
Find More Indoor Winter Activities to Keep Your Kids Moving
Keeping your kids entertained and moving all winter long can be exhausting, especially on exceptionally chilly days. We hope that this list provides you with some fun and unique ideas to keep your children engaged and moving throughout the winter season!
Come in to see your pediatrician for any questions you have about pediatric care for your kids in the winter!