Summertime is here and whether your kids are at home for the summer or they are still in daycare, the changing seasons can cause a fluctuation in scheduling. Drop the stress and try some of these healthy snacks for kids and toddlers this summer. Whether you're looking for toddler snacks, fun snacks, quick and easy snacks, or snacks on the go, there's a little something for every lifestyle!
Healthy Snacks and Child Development
It can be easy to just grab a bag of chips or a box of goldfish and hand it to our children when we're feeling stressed and overwhelmed. We've all done it and we're still going to have days where that's the go-to snack because none of us are perfect! However, these snacks should be grabbed sparingly as the foods kids eat will impact their overall development!
Physical Benefits of Healthy Food for Kids
Live Strong provides a variety of benefits that healthy foods will have on your child's physical well-being, including:
Optimizing their growth
Prevents childhood obesity, which nearly 1 in 3 children suffer from in the U.S. and places them at risk of chronic diseases as adults
Promotes a lifetime of healthy eating choices
Cognitive Benefits of Healthy Food for Kids
Not only are there important physical benefits to choosing healthy over-processed foods, but there is an array of cognitive benefits as well. Pediasure notes that these include:
Healthy brain functioning
Optimal brain development
Neurotransmitter formation
Better concentration, mood, and behavior
Additionally, children who aren't receiving enough of the right nutrients can suffer from Failure to Thrive, leading to delayed mental, social, and physical skills!
Tips for Getting Your Kids to Eat Healthier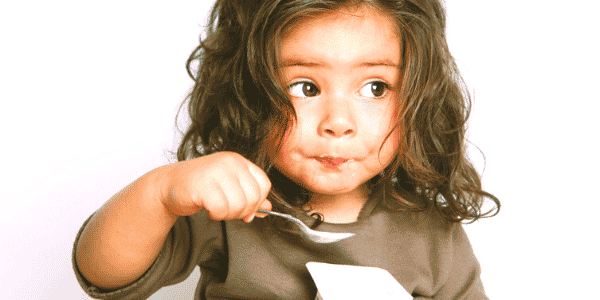 Trying to focus on healthy snacks for kids and toddlers (especially the picky eaters) feels daunting, but we're here to help share a few tips to make it easier!
Focus on healthy eating habits, it should be more of a lifestyle than a daily battle. Don't worry about specific foods they should be eating, but a variety of foods that fall within a whole foods diet. You can also mask the taste of healthy foods, cook more at home, and get your kids involved. Remember to lead by example as kids love to imitate you!
Work to make mealtimes more than just eating healthy by eating together often, taking an interest in their lives, teaching by example, and monitoring their eating habits. Incorporating daily social interaction into your kids' lives relieves stress and boosts their mood and self-esteem!
Cut down on sugar with fun treats that are just made with less sugar (like popsicles and baked goods). You don't need to cut out sugar and refined carbs entirely as this will lead to overindulging and uncontrollable cravings.
Come up with junk food alternatives like baked fries instead of fried, frozen yogurt or sorbet instead of ice cream, and baked veggie chips instead of potato chips!
Healthy Summer-Inspired Snack Ideas for Kids and Toddlers
Creating healthy snacks for kids can feel overwhelming on your best day, but we've found a variety of recipes to try out for all lifestyles!
Healthy Snacks for Toddlers
Choose colorful fruits and veggies, a variety of textures, and utilize cutout shapes all in the name of keeping toddlers amused and interested! Give some of these ideas a try:
Find more toddler-friendly snack inspo here!
Quick Summer Snacks
Sometimes we don't have an hour or two to prepare healthy snacks that are a little too complicated to make. Try out some of these healthy, quick, and easy kid-friendly summer snacks:
Fruit and cheese kabobs
Veggie dip cups (make dip ahead or purchase a healthy veggie dip)
Ants on a log (celery topped with peanut butter and raisins)
Fun and healthy snack mixes
Sliced pears with ricotta cheese
Turkey and avocado roll-up (warp sliced avocado in turkey slices)
Carrot sticks and hummus
It's not always about making it overcomplicated, but making it look fun to eat!
Healthy Summer Snacks for Kids
If you have the time to try out some new recipes to spice up snack time and keep the options healthy, give these recipes a try:
Find even more recipes here!
Healthy Snacks on the Go
If you need snacks for daycare, a day at the park, or a road trip, they can still be healthy! Great snacks for kids on the go are easy to eat out of a container or just with their hands and aren't very messy such as:
Homemade cheese crackers
Homemade potato chips
Carrot and zucchini bars
Muffins
Energy balls
Veggie and dip or hummus cups
Fruit and cheese kabobs
Fruit dip with fruit cups
Snack mixes
Ants on a log
Soft granola bars
Oatmeal bars
All these recipes can be found in the links above!
Talk to your pediatrician about ways to boost your kids' nutrition today!