School is back in session! If you're a parent with kids in school, you know how much work this can be. It's not just about preparing your little ones ready for their first day at school. It's also about preparing yourself for the changes that are coming up. As you know, during the pandemic, there was a lot of uncertainty in our daily lives. We have all been working together to create new routines that help us feel more comfortable with what we can control.
One thing you can control this back-to-school season is your child's stress levels. Now that they return to school or daycare, they will have more social interactions outside their home environment. This is great because children learn from each other, but it can also cause some anxiety if they are unprepared before starting this new chapter in their lives.
Whether your child is starting kindergarten or moving on to middle school, there are some things you can do ahead of time to make sure you and your child are prepared for what's ahead.
As a parent, you know that returning to school stresses everyone involved. For parents, this transition can be tricky—not only do you have to prepare your child for a new school year, but you also have to adjust your schedule around them. There are so many ways in which your child's life will change, but one thing that should never change is your love for them.
Here are some tips for preparing yourself, your child, and your whole family for back to school:
Preparing to Go Back to School
You don't want to wait until the last minute to start getting ready for back to school. Start early so you can take care of your shopping and planning in one fell swoop. If you wait until August, it'll be too late. Start thinking about what your kids need now so you can make a list, organize, and complete your shopping.
Whether it's asking family members or friends to watch the kids while you go grocery shopping or asking them to help organize their clothes, having extra hands can make a big difference when it comes to preparing for back-to-school season.
Choose the Learning Mode
Many schools offer online learning environments or hybrid programs that combine online learning with in-person instruction. Consider these options if available because they reduce stress on families. This is especially true if one parent works while another stays at home with their children.
Setting Clear Expectations
Parents must set clear expectations with their children about what will happen at home and in school. This includes setting limits on screen time, making sure homework is done on time, how they will be spending recess (playing outside), etc.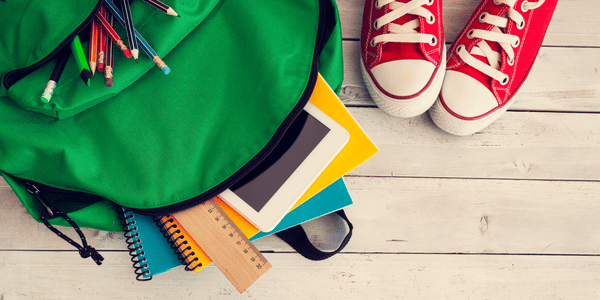 Please make sure you tell your kids that they need to respect their teachers. For example, by not talking during class, staying focused on the task at hand, and following directions given by their teacher (no matter how silly). If possible, take them out of class once in a while so they can see what happens in other classrooms. This can help them understand why rules are important and why it's best if everyone follows them so everyone can learn from each other.
Set clear expectations around behavior, grades and homework so everyone knows what is expected of them. Even if you don't have any rules right now, make sure all family members understand why certain things need to happen when they happen.
For instance, set times when homework needs to be done each day (like after dinner). This helps your children learn how long homework takes. Thus, they don't rush through it just before bedtime or skip doing it altogether because they don't have enough time during the day.
Emergency Details
Make sure you have emergency contact information on hand that includes all family members' names, phone numbers, addresses, emails, and any other important information about each individual in case there's an emergency that requires immediate attention.
Prepare Materials
You may want to prepare materials ahead of time, for example, having all necessary supplies ready so they don't get lost during the move or forgotten at home because they were packed away somewhere else while preparing for school.
Before starting the packing process, take stock of what your child needs before heading back to school. This will help you avoid missing items at the last minute. You may want to consider creating an organized checklist so that you can easily refer back to it when needed. Here are some items that might be helpful on your list:
School supplies – notebooks, pencils, pens, folders, and binders
Clothes – sneakers or tennis shoes, socks, and outerwear such as raincoats or umbrellas. It depends on the weather conditions in your area
Electronics – cell phone/ipad charger, earbuds/headphones**(if your child has one)
Managing Your Child's Back-to-School Stress
The first step in managing your child's back-to-school stress is ensuring they are prepared to do their best at school. This may involve:
Checking their immunizations are up to date.
Getting them comfortable with their new teachers and classmates or reconnecting with old ones if they have been out of school for a while (e.g., due to illness)
Communicating with teachers about any changes in your child's health since last year that may impact how well they do at school (e.g., new medications, asthma flare-ups)
To avoid feeling anxious about the whole process, set up an area where you can work without distractions. Do this on a weekend when everyone else has gone out to focus on accomplishing tasks without interruptions. Then, allow enough time for breaks if needed without worrying about rushing through things.
Your child's pediatrician is also better placed to help you with your child since you both have their best interests.